Though it is a widely known fact that Viv Anderson was the first black player to win a full international cap for England, in 1978, it is barely heard of that the first black player to be selected for England was Jack Leslie, a versatile forward with Plymouth Argyle — and that was 53 years earlier. The difference was that although Leslie was named in the England side, he was quietly and discreetly dropped before the game. Apparently because of his colour.
Even Plymouth fans who have always known his name — he appears in lists of stats for appearances (400) and goals (137) — were unaware of his story. Yet, today, outside Home Park, a statue of Leslie will be unveiled and, 97 years too late, his place in English football history will finally be certain with the FA awarding him a posthumous honorary cap.
It is unprecedented for the FA to award a cap in this manner. The decision has been taken "to right the historical wrong," Debbie Hewitt, the FA chairwoman, said, and "to recognise his unique contributions and set of circumstances."
Indeed, Leslie is as significant now for the fact that he was dropped from the England team of 1925 as he is for having been initially selected.
We live in a time, 97 years on, when statues are being pulled down. Here the opposite will be happening and his three granddaughters will be there to witness it. Their mother, Evelyn, Jack's only daughter, didn't survive to see it; she died in March, though Lesley, the eldest granddaughter (named after her grandfather) says that Evelyn struggled to celebrate it.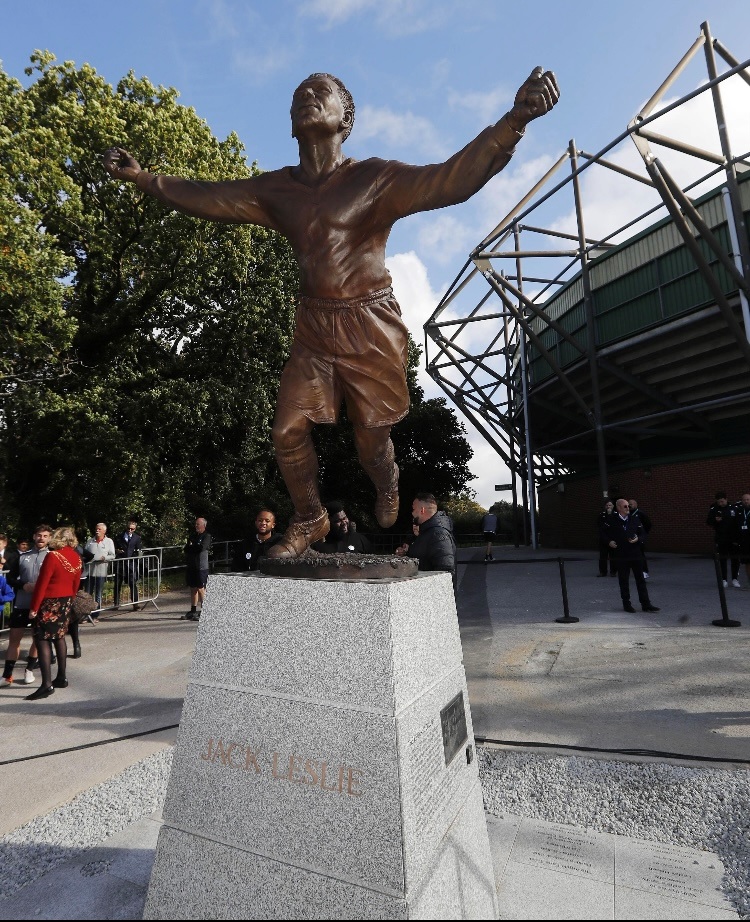 "She was very bitter," Lesley says. "When this came up, her attitude was, 'It's too late, it should have been done when he was alive.' " Maybe the posthumous cap would have gone some way to healing old wounds; when Lesley and her sisters went to see early work on the bronze statue, they took pictures and returned to show them to Evelyn and that, Lesley says, softened her stance a little.
It is only being done now because two fans, both independently, happened to wander into the story and decided, according to Greg Foxsmith, that "it was too big to ignore". Foxsmith is a solicitor; his mate, Matt Tiller, is a musician who decided to write a song about it.
But Foxsmith wanted to go a step further. Thus did the campaign for a statue begin. It happened to coincide with the start of the Black Lives Matter movement. That, says Foxsmith, gave it broader appeal. "We love it that it's been backed by fans from other clubs," he says. The target of £100,000 was reached faster than they could have imagined. And that was with some fans asking, naturally: "How can this really have happened?"