The man who kept the world's feet to the flame in relation to the wickedness of apartheid is buried at home.
Under soft rain welcomed as an African blessing and in a ceremony deliberately pared of any pomp, the extraordinary life of Archbishop Desmond Tutu, South Africa's last moral giant, was today marked with a state funeral.
Tutu, who died at the age of 90 last Sunday, planned the requiem mass himself: a fuss-free fusion of sombre spirituality, his favourite hymns and a minor part for the state that fitted perfectly his humble nature.
His tiny, unvarnished pine coffin with rope handles — "the cheapest available", on Tutu's instructions — was the centre of proceedings at St George's cathedral in Cape Town, which during his years as archbishop he turned into a crucible of anti-apartheid struggle and a shelter for activists.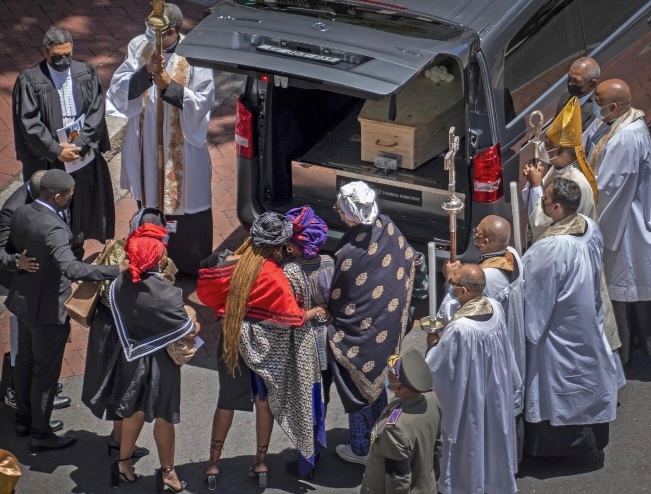 The 100-strong congregation, thinned out by pandemic rules among seats for 1,200, wore flashes of purple, the colour of Tutu's robes, including Leah, his wife of 66 years, and President Cyril Ramaphosa, who gave the eulogy on behalf of a grateful country in grief.
Describing him as "our moral compass and national conscience", President Ramaphosa, 69, acknowledged how Tutu, the 1984 Nobel peace prize winner, had become as much a critic of the ruling African National Congress as the racist white regime it replaced.
"Even after the advent of democracy, he did not hesitate to draw attention, often harshly, to our shortcomings as leaders of the democratic state," the president told the mourners in masks.
Two of Tutu's daughters, Mpho and Nontombi, both church ministers, took part in the high mass, which included a video message from Justin Welby, the Archbishop of Canterbury and head of the worldwide Anglican church, who likened his contribution to "a mouse giving tribute to an elephant".
Welby said: "South Africa has given us extraordinary examples of towering leaders of the rainbow nation with President Nelson Mandela and Archbishop Tutu. Many Nobel winners' lights have grown dimmer over time, but Archbishop Tutu's has grown brighter."
Outside the stone cathedral, life-sized posters of Tutu with his hands clasped provided a focus for mourners — a blend of age, ethnicity and wealth that matched the cleric's vision for a free "Rainbow Nation" . It was one Tutu increasingly doubted would ever transcend South Africa's entrenched divisions over poverty and race.
Mandela's widow, Graca Machel, read a prayer, as did Mary Robinson, the former president of Ireland. Elita, widow of the last apartheid leader FW de Klerk — who died in November — was also in a congregation that reflected the spirit of reconciliation that made Tutu and South Africa international beacons.
In the decades when Mandela and other activists were in jail or exile, Tutu became the emblem of the anti-apartheid struggle, campaigning tirelessly abroad and admonishing the world's most powerful figures for their silence and inaction.
At home, from his various pulpits , he spoke out against state-sponsored violence without fear, his flowing robes his only shield from the bullets and boots aimed at other black South Africans.
After apartheid was dismantled and South Africa ushered in the first free elections in 1994, Tutu chaired the Truth and Reconciliation Commission, which often left him howling into his sleeves as the horrors of the past were revealed.
Rain had been replaced by sun by the time this morning's service ended in a peel of St George's bells and Tutu's humble casket was taken away.
Still, there were more instructions from "The Arch" to be followed: firstly, an aquamation — a greener alternative to cremation using water and chemicals — after which his remains will be interred in the cathedral near his old pulpit. He had planned his own epitaph too: He laughed, he cried and he loved.