Billy Porter clarified his thoughts on Harry Styles this week, after his less-than-complimentary take on the "Watermelon Sugar" singer's Vogue cover caused a stir on social media.
Appearing on "The Late Show" on Thursday, the "Pose" actor offered Styles an apology, and said that his previous criticisms should have been directed elsewhere.
"The first thing I wanna say is, Harry Styles, I apologize to you for having your name in my mouth," Porter said. "It's not about you. The conversation is not about you."
In December 2020, Styles made history as the first man to appear solo on the cover of Vogue. Tyler Mitchell's accompanying photo spread featured the pop star in a number of striking, gender-fluid looks, including a lacy Gucci gown.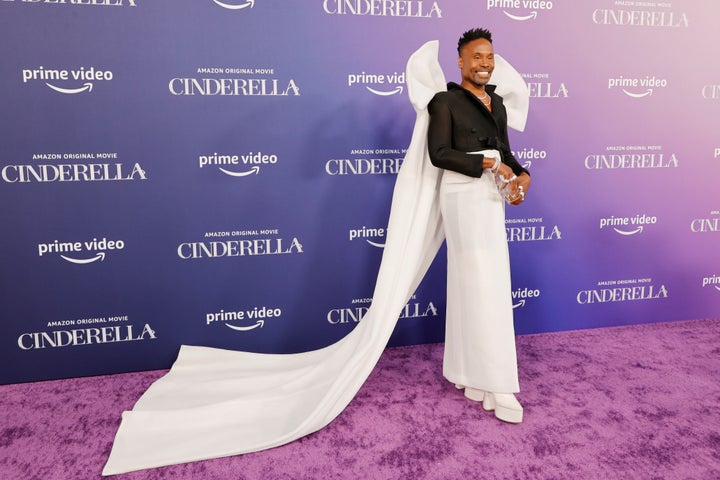 Speaking to The Sunday Times last month, Porter criticized Vogue's decision to feature "a straight white man" on its cover, instead of an LGBTQ+ person of color like himself. Porter, whose red carpet ensembles have made him a gender-fluid fashion icon, said Styles' interest in challenging similar norms through clothing wasn't motivated by lived experience.
"I changed the whole game," Porter said. "I. Personally. Changed. The. Whole. Game. And that is not ego, that is just fact … he doesn't care, he's just doing it because it's the thing to do. This is politics for me. This is my life."
"All he has to do is be white and straight," he added.
In his "Late Show" chat Thursday, Porter said the fact that his initial comments had produced so many headlines was indicative of a "slow news day." He added that what he really wants to talk about goes beyond Styles.
"The conversation is actually deeper than that," he said. "It is about the systems of oppression and erasure of people of color who contribute to the culture."
Discussing how he feels about Styles himself, Porter quipped, "I'm a gay man! We like Harry. He's cute!"
Catch Billy Porter's "Late Show" appearance below.