The two earliest individual portraits of black men in European art are on display together for the first time today in an exhibition of Renaissance portraits in Amsterdam.
Other works on show include the masterpiece Portrait of a Young Girl by Petrus Christus, dating from about 1470, a painting that rivals the beauty and mystery of Leonardo da Vinci's Mona Lisa.
The Rijksmuseum's Remember me exhibition includes paintings and drawings from collections all over the world that are rarely allowed to travel and explores universal themes behind the rise of portraiture, especially in northern Europe.
"It is about memory, longing, loss, ambition, authority and beauty, how people wanted to be remembered, as increasing numbers of people outside the nobility had themselves immortalised by Renaissance artists," Matthias Ubl, one of the exhibition's curators, said.
"Why does it intrigue us so much? Are we more occupied with portraits of ourselves, whether it is selfies or celebrities? Just as today, sitters wanted to be displayed in as flattering a light as possible."
The exhibition covers works from the 14th and 15th centuries during a time of wars and upheaval in religion, craft and science, giving an insight into changing ideas through the faces of individuals and their families.
Albrecht Dürer's unique masterpiece, the 1508 Portrait of an African Man from the Albertina Collection in Vienna, is the earliest known individual portrait of a black person in West European art.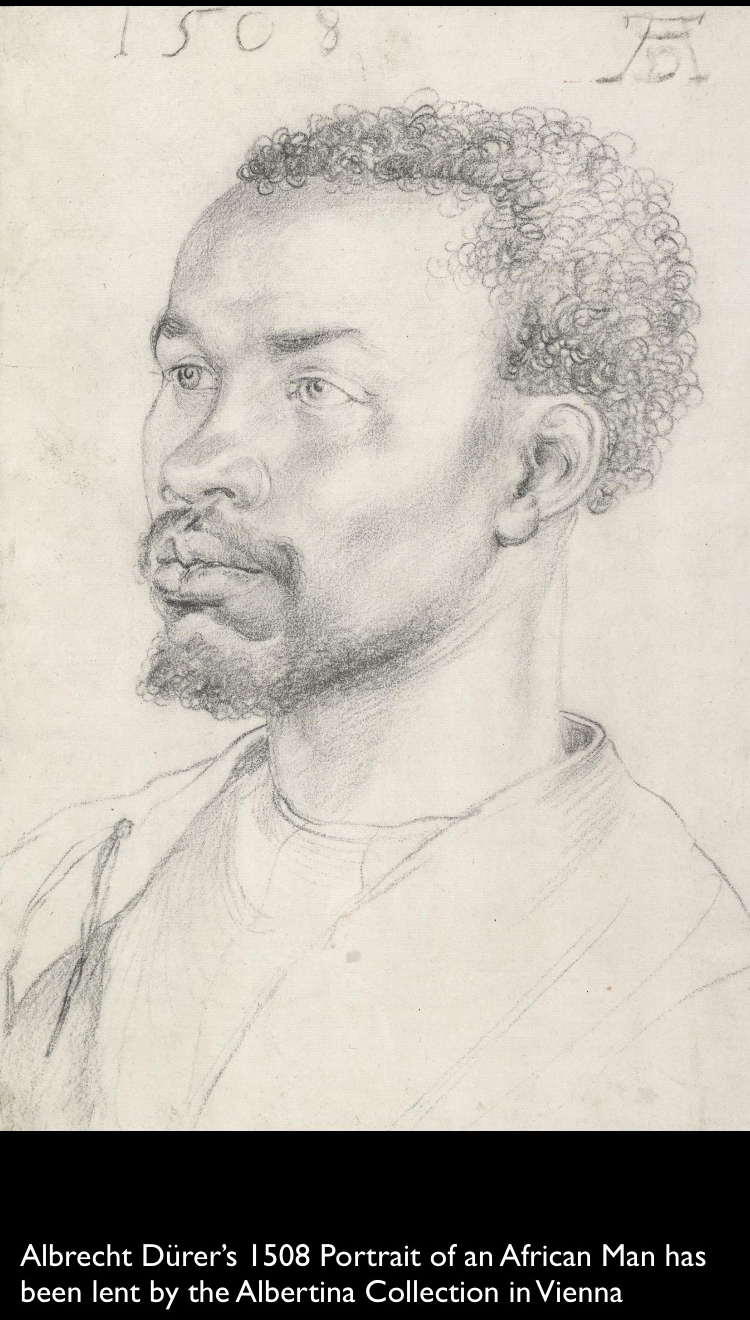 The black chalk drawing of an unknown man was probably drawn for Dürer's private interest and remained in his workshop collection until his death in 1528. "No one knows what Dürer was thinking when he made the drawing," Friso Lammertse, one of the curators, said. "It exceptionally captures a man's individuality free of the racism and stereotypes of black people that we still find today."
Thirteen years later, in about 1525, Jan Jansz Mostaert, a Haarlem artist, made the earliest known painting of an individual black man, also unknown, in late medieval and Renaissance Europe.
It was recently speculated that the painted portrait was a model for the Zwarte Piet — or Black Peter — character, providing a historical basis for the contested and controversial Dutch tradition of helpers for Saint Niklaas wearing blackface makeup.
However, as with Dürer's drawing, the work is completely free of caricature with the man's attire, sword and gloves suggesting he is a professional soldier. Additionally the pilgrim's insignia on his cap, one of which is kept in the British Museum, identifies him as a Christian who had completed the pilgrimage to Halle, near Brussels. Research suggests he was Christophle le More, an archer and personal bodyguard to Charles V, the Holy Roman Emperor.