Standfirst
Pulitzer prize winning playwright, Suzan-Lori Parks (SLP), brings to the Bridge theatre this autumn with White Noise,a deeply unsettling proposition.
SLP,a writing student of James Baldwin, from whom she borrows the epigraph for White Noise, is one of our most celebrated playwrights writing today and a prolific talent, her plays have included the Broadway hit Topdog/Underdog, In the Blood, The Death of the Last Black man and many more.She is also a novelist, a screenwriter and even a song writer,fronting her own band, Sula and the Noise.
Of her latest play to premier in London SLPexplains,
'White noise was full of rage in 2016, I call it my angry play… and now it's angrier and yet it is more compassionate, it's more ripping your heart open, it's more balls to the wall… it's better.'
The play is set amongst an inseparable group of four thirty somethings, two black and two white, best friends and lovers, talented, liberal and above all devout in their connection and support for one another. Misha is producing the hit online show 'Ask the Black', Ralph is waiting for tenure at his university, while Dawn a lawyer spends her time fighting social injustice, and Leo a chronic insomniac is a skilled visual artist. But then one of them is racially assaulted by the police and the victim shaken to his core turns to his friends and puts forth a chillingly dark anachronistic proposal.
With White Noise, SLP is at her shocking best, creating and asking profound questions about racism in the 21st century. How liberal really are the liberals? and is the shocking proposition really that anachronistic or one that time has just subtly masked?
The four characters through dialogue and monologues confront these questions head on whilst trying to navigate the path that they are now on.
With the use of intense constructs and themes,White Noise provokes a deeper cognition of race and racism today that will stay with you long after you have left the theatre.
And the play's European premier is fortunate to be house in one of London's newest and most modern Theatres, The Bridge. Overlooking Tower Bridge, its 900-seat auditorium can be adapted to a variety of performance styles creating a truly immersive experience, whilst its spacious break out areas creates a relaxing environmentto enjoy contemporary theatre.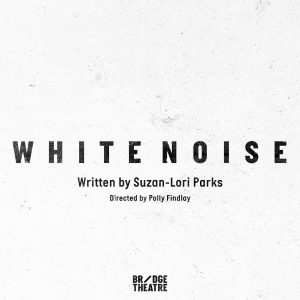 White Noise is a must see play for all those who want to enjoy a thought-provoking experience from one of our most acclaimed playwrights at the heights of her creative powers, and her play transmutes her mentor's epigrammatic wisdom into boldly embodied truth:
'Not everything that is faced can be changed. But nothing can be changed until it is faced.'
James Baldwin
White Noise is at the Bridge theatre from October 5th for 6 weeks only.