ITV News anchor Charlene White tells us about her career, rising above harsh comments and her passion for bringing in the next generation of broadcast journalists 
She became the first black woman to host News At Ten in 2014, and was one of their youngest-ever presenters at the time she joined the news station in 2008. 
However, Charlene White is not satisfied with having broken new ground through her own achievements; she pays it forward. The south London-born broadcaster has been instrumental in establishing the scheme 'Breaking Into News', a competition now in its eighth year that welcomes winning applicants into ITV newsrooms nationwide – regardless of age, financial status, level of education or cultural background. The product of Media Trust and ITV, Breaking Into News has been part of White's professional life since its very first year, and she and ITV London's Ria Chatterjee have been working hard to ensure that 2019 has a large, varied pool of candidates.  
We caught up with Charlene White at the ITN Building in London, where she told us about acknowledging the impact of her being a national broadcaster, the process of changing hairstyles and why newsrooms need to widen their hiring pool. 
I first realised that I was doing something significant about a year before starting at ITV, while working for the BBC Look East, in Norwich. 
After my first presenting shift on the afternoon news, a woman rang up to complain about me being on the TV. Her words were: 'Has the BBC run out of white presenters? Why is this woman on my TV?' She said she thought it was 'disgusting' that the BBC were employing 'presenters where English wasn't their first language' – and no-one on my team wanted to tell me. When I heard, I found it absolutely hilarious! I said it was shocking that no-one thought that was going to happen – I expected it, because it was an unusual thing for viewers in that part of the UK to see me doing the news at that point. I think that that's when I realised I'm having an impact, and a good impact, because I don't care if someone is uncomfortable with seeing me on the TV. In my head, this is the new world order – no-one's going to stop me from doing my job because they don't particularly like the colour of my skin. It's always good to ruffle a few feathers.  
'No-one's going to stop me from doing my job because they don't particularly like the colour of my skin.' 
Adapting to the greater visibility that comes with working on national TV it was really hard. 
The sorts of emails and messages that you get… I was in my late 20s and I remember getting an email from a guy with the subject line: 'Your Weight'. It said something like: 'You can't fail to recognise that you're bigger than other news presenters. Don't you think you should do something about it?' That's one example of the sorts of messages you get every now and then from a small section of viewers, who feel they have a right to say those sorts of things to you because somehow you're not a human being because you work on TV. And it did used to really, really hurt and upset me. But then you grow older; you reach your 30s and life doesn't seem quite so bad. You're a lot more confident within yourself. I absolutely love my job, and I know that I'm good at what I do, and irrespective of my size, my skin colour, my hair, whatever, I can still do my job – so these days, I don't particularly care.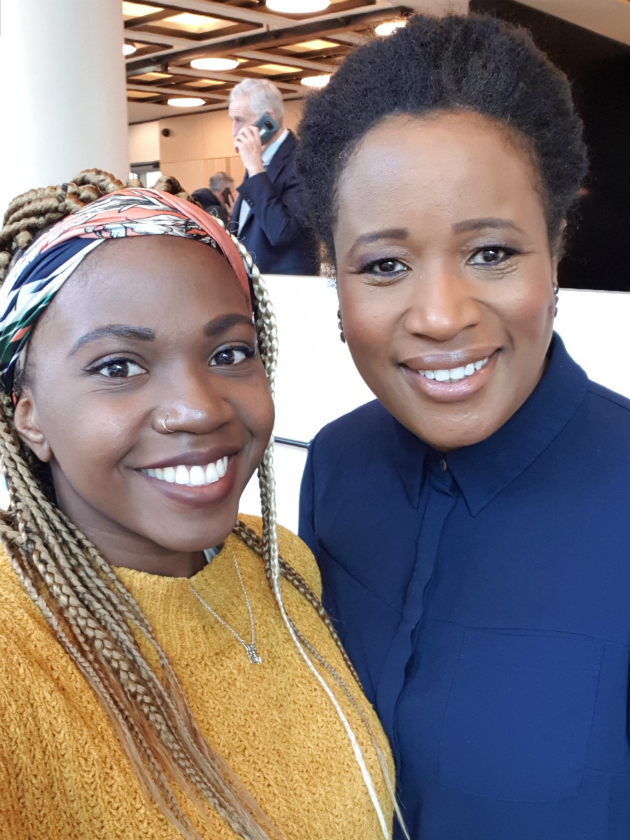 When I was a child, there wasn't as much representation as today. 
But I'm from the era of Moira [Stewart] and Trevor [McDonald]! I never necessarily took on board the idea that I couldn't do it, just because there weren't loads of other people on TV doing it, because I was raised in a family that believed it didn't matter what your skin colour was, you could achieve whatever you wanted in life. My parents taught us to be trailblazers. And, I am the child of immigrants; they worked bloody hard to get to where they did. They put three children through school, working five or six jobs between them. There wasn't a chance for us not to succeed, because you can't have your parents work that hard and invest that much in their children, for those children to not have an impact in life.  
The Breaking Into News competition is a great way to get new talent in the door. 
Lots of people talk a good talk about wanting the industry to reflect the audiences we serve, but don't do anything about it. But we at Media Trust and ITV are actively out there, looking for new talent, developing their ideas, and then bringing them to this amazing creative space. So many of the young people we've worked with are now working in ITV newsrooms up and down the country – I am still in touch with my mentee from that very first year, and he's doing phenomenally well. Every single newsroom in this country has the responsibility to go out there and find and nurture new talent, because if we don't, it'll be to the detriment to our industry.  
When I feel like changing up my hair there's no big discussion about it. 
If I want to be blonde, I want to be blonde. I've gone through a reddy phase, I've gone super dark, I've had bangs, and now I'm natural. In two years' time I could decide to change it up again – I could change it next week. I don't know what other companies are like but working for ITV News, no one's ever had a conversation about my hair at all. I know what I need to look like when I go on TV – I need to look professional, I need to look authoritative, and I need to be able to convey what can be really difficult messages to people – that's my daily job. So I know that I have to look a certain way for that. My bosses trust my judgement. 
What I love about my job is the same reason I decided to get into it at 16 – I love talking to people.
I love telling people stories. When I first started, there was no internet; the only way to find out what else was happening in the world was by listening to news on the radio, watching the news on TV, or picking up a newspaper. And I wanted to be that conduit between something in the world happening and telling people about it. Every story matters, and I think I've got the best job in the world – I get to bring those stories out of people. 
Breaking Into News is a competition run by Media Trust. Keep an eye out for details on how to enter the Breaking Into News 2020 competition on itv.com, or search 'Breaking Into News'.  
As told to Nicole Vassell