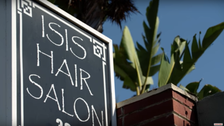 "If your hair is a terror, come to Isis Hair Salon."
"The prices will blow you away."
These are just some examples of the pun-heavy, insensitive comments Carrie Banks said she has received as the business owner of a beauty parlor in Los Angeles, California, called Isis Hair Salon.
"I was hoping that this is was something that was going to pass quickly and that it would go away," Banks said in the video produced by Super Deluxe. 
Unfortunately, Banks said the taunting hasn't stopped as attacks by the militant group continue across the world. She said she has tried to explain to the public that her salon, which has been open since 1995 and caters primarily to black clients, has absolutely no association to ISIS. In fact, she said her selection of the salon name was a way to pay homage to an Egyptian goddess by the same name.  
"Isis was a queen, the queen of beauty, the queen of giving and I felt that was how I was conducting myself at the time," Banks explained. 
"It was very obvious when you walked in that it was a royal type of treatment and the name matched that," she added. "I like to make everyone feel like a queen when they're in my chair."
Banks began to become emotional as she shared how her business has been unfairly blasted by rabbis for its name. She said she's even considered taking the store's sign down. 
"I have attempted to take the sign down and change it and I'm running into people… who will not help me," she said. "It's a very emotional thing for me." 
Banks said she has even reached out to different news outlets "asking them why is it they keep saying ISIS. The president doesn't call them that, he calls them 'ISIL.'" 
And while some employees are able to laugh off the teasing, others say it has taken a personal toll on them, too. "It really caused an effect on us, to the point where people are leaving messages on our answering machine," one employee said in the video. 
Meanwhile, some customers think the backlash is just plain absurd. "It's crazy to me because it's so dramatic like it's a hair salon," one woman said. "I would never think this is linked to terrorism." 
Despite the mixed reactions, Banks said that she will continue to fight back against the haters one hairstyle at a time. 
"I just love what I do," Banks said. "Even if I change my name, people will always still look for Isis Hair Salon."
Watch the full documentary in the video above.