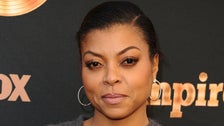 Don't interrupt Taraji P. Henson when she's applauding black women. Ever.
One internet troll learned that lesson when he stepped into the "Empire" star's Instagram comments on the post below where she was highlighting the beauty of black women with an affirming meme.
"All women are beautiful…not just black women. Empower beauty in all women.. not just your race… #blackracist," @damienglopez, who has #whitepower in his Instagram bio, wrote.
Henson shut this nonsense down.
The Shade Room posted a screenshot of Henson's clapback, in which she tells the troll, "What does celebrating MY BLACK beauty have to do with being a racist? You are ignorant and clueless." She continues to drag the troll for filth:
TL;DR: Celebrating black beauty is not synonymous with downplaying the beauty of any other race. Period.