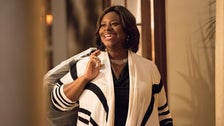 The comedian and "Parks And Recreation" star dropped by HuffPost Live on Monday to chat about her role on "Girlfriends' Guide To Divorce," and she shared how the push for diversity on TV has benefited her professionally.
"Finally we're getting some color on television, which I am grateful for. I think it's part of the reason why I am working right now," she said.
When host Josh Zepps pointed out that Asian actors are appearing more often on television recently, Retta explained that she often spots "trends" in what types of looks executives are willing to depict on-screen. She said:
There's always a trend. There was a thing when it was, like, redheads. All you would see on TV was redheads. Then there was a thing I called "black girl crazy hair," where every commercial, every black girl was a girl who had natural hair that was wild. And I was like, 'I can't. I need my hair straightened.' So I was like, 'I guess I'm not going to do any commercials this season.' But there's always some kind of ebb and flow and wave of something.
Retta added that she hopes the demand for roles for her physical type will sustain itself as she continues to grow in her career.
"I'm knocking on wood because I'm trying to roll with this big black girl thing," she said. "Right now I feel like there's just enough people into the big black girl thing that I can still pay my bills."
Want more HuffPost Live? Stream us anytime on Go90, Verizon's mobile social entertainment network, and listen to our best interviews on iTunes.
PHOTO GALLERY
HuffPost Live's Celebrity Guests