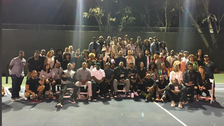 In the aftermath of the unjust events that have taken place in this country, many people have looked to the Hollywood stars to use their influence to help spark change.
More than a hundred of big names answered that call when they gathered in an undisclosed location in Hollywood on Wednesday to discuss the current events plaguing America and how they can make a difference "once and for all," The Game posted on Instagram.
Some other celebrities in attendance included, Kimberly Elise, Nate Parker, T.I., Jesse Williams, Boris Kodjoe, Cedric the Entertainer Meagan Good, Terrence J, Tina Lawson and Niecy Nash.
"Last night over 100 entertainers, activists, & policy makers from all walks united to share information and set strategic steps in an effort to help our community," Terrence J shared on Instagram. "I vow to continue to use of my voice & platform to spread positive and peaceful change."
Elise also vowed to continue to fight and said each celeb there has their own unique role in the road to enacting change.
"You will continue to see some of us out front others of us will work quietly yet powerfully in other forms behind the scenes but we. are. here," she wrote in an Instagram post "You have all always supported us in our art I want you to know that we feel the pain deeply and we support and are working to make change for our people and ALL people in LIFE."
The Game, who's been very vocal about ending all violence within the past week, has also teamed up with Snoop Dogg to urge Bloods, Crips and other gangs of Los Angeles to build a truce and unite to work towards an end to crime in their neighborhoods. The rappers are hosting an open meeting with the gangs on Sunday and are asking attendees to not bring guns or anything illegal and to come with a sober mind.
This isn't the first time black Hollywood has used their voice to fight injustice. Earlier this week, Alicia Key's team and Mic coordinated a video in which Beyoncé, Rihanna, Common, Chance the Rapper, Taraji P. Henson, Janelle Monáe and other celebrities list the 23 ways you can be killed in America if you are black.
Hopefully their actions, along with those of the everyday activists and people of the movement, can really make a difference.