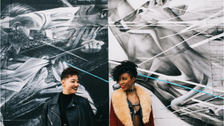 How did you two meet? How long have you been together?We initially met on an online dating site around the end of September 2016. She was living in Baltimore, Maryland, and I was in Blackwood, New Jersey. Not long after that, she then made the trip to New Jersey. She stayed at my home rather than a hotel.  She came — in a headscarf. I let that slide, though; it was late at night when she finally arrived. The next morning, we were getting ready for brunch. I'm already ready, of course, so I'm just waiting on her. She comes out in these gray skinny jeans, knee-high black boots, an Aztec-printed cardigan-type sweater, and her afro was out! Anytime people ask how did you know Kayon was "the one," I revert back to this day. I swear to you, when I envisioned my perfect mate, I saw a beautiful woman with skinny jeans, black knee-high boots, an Aztec sweater and a big-ass afro. When I saw this woman walk out as exactly that, I think I had an out-of-body experience. It was surreal. But it was real. She was everything. After that, it was a wrap. After Kayon left, I spoke with my sister, and I told her, "That's the one I'm going to marry."
To answer the question, we've been together one year and three months, and married for 10 months.
How do you define black love, and how does your relationship exemplify that?
I think black love can mean a lot of things. Some of the core things for us are our strength, our support, having a common goal/journey, and no fear. It's about family. Acknowledging and healing the inherited family patterns, learning about our ancestry/ancestral journey as well as lighting the torch for the seven generations that precede us. We showcase this by being an example to our daughter, Phoenix. As she observes us, she sees her parents taking care of each other, living with compassion, honesty, integrity and respect. So that, in turn, she will do the same and carry that on in her life.
In which ways do you see your relationship as a queer couple represented in conversations about black love, if any?
Honestly, we feel as though we're only seen represented within the black queer community. Even within the LGBTQ+ platforms, we aren't equally prominent. When on social media platforms such as Facebook, we are able to find groups specific for black queer couples or we find and follow  them on IG or YouTube. Beyond small sects found on social media, I don't think queer couples are being represented.
How can we ensure queer couples are included in conversations about black love?
A conversation where I feel as though that would have been a good inclusive platform was on the "Black Love" docu-series. Not one black queer couple was on there. Black love is diverse, as they acknowledged that by highlighting two interracial couples, but not black queer couples. We aren't in shortage. I think part of the problem is when you ask many people what black love means, the majority will usually answer, "It's love between a black man and a black woman." It's being dissected into these subgroups, but no. Black love is Black Love. It's knowing who you are and being proud of who you are, and finding a partner, a friend, a relative, etc., who sees that in you and nurtures that within you, and vice versa. We have to continue to be our own advocates in media, online, and in our communities in order to be seen and heard equally.